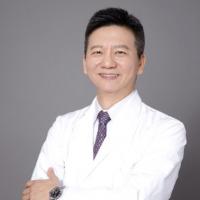 臺中榮民總醫院內科部部主任辦公室
(04)23592525轉4065
wmj2748@gmail.com
研究領域
腎臟纖維化
泌尿道癌症
器官移植
精準醫療
AI臨床應用
教授科目
簡要經歷
現任:臺中榮民總醫院內科部主任,臺灣腎臟醫學會常務理事、臺灣移植醫學會理事,教育部部定教授,中興大學生命科學院生物醫學研究所兼任合聘教授暨碩博士生指導老師,臺灣腎臟醫學會教育訓練委員會主任委員。
經歷:美國亞利桑那州立大學醫學中心研究員,臺中榮民總醫院內科部腎臟科主任、一般醫學內科主任,中央研究院人工智慧學校經理人研修班結業,國際專案管理師認證培訓課程結業,
台灣大學EMBA(109級)。
獲獎項目
臺中市108年醫療奉獻獎得主,醫策會年國家醫療品質獎住院流程優良標章,衛福部國健署腎臟病健康促進機構提升照護品質計畫醫學中心典範獎,臺灣腎臟醫學會年會報告獎多次和創新應用論文獎多次,日本透析醫學會研究獎,科技部研究獎,一般醫學師資培育及OSCE教學影片競賽第一名,推廣臺灣醫學教育學會示範中心暨師資培育計畫獲得全國評鑑多次蟬聯第一名,行政院退輔會年度優良醫師,台中榮民總醫院教學績優獎多次,台中榮民總醫院研究論文獎多次,中華醫學研究獎助基金會醫學研究論文獎第一名等。
學術著作
學術著作: 
期刊論文(僅提列其中第一作者和通訊作者的重點論文)
Wu MJ, et al. The Predictive Value of Hyperuricemia on Renal Outcome after Contrast-Enhanced Computerized Tomography. J Clin Med. 2019 Jul 10;8(7).pii: E1003. doi: 10.3390/jcm8071003.

YH Chen, ..,MJ Wu*. NT-proBNP predicts total mortality, emergency department visits, hospitalization, intensive care unit admission, and CV events in hemodialysis patients. J Clin Med. 2019, 8(2): pii: E238.

YH Chen, YC Fu, MJ Wu*. Role of resveratrol in preventing contrast induced nephropathy. J. Clin. Med. 2019, 8(2), 147; doi:10.3390/jcm8020147

Wu MJ, .., Kao CH. Propensity Score-Matched Analysis of the Survival Benefit from Kidney Transplantation in Patients with End-Stage Renal Disease. J Clin Med. 2018 Oct 26;7(11). pii: E388. doi: 10.3390/jcm7110388.

WP Wu,.., Wu MJ*, CY Lin*. The attenuation of renal fibrosis by histone deacetylase inhibitors is associated with the plasticity of FOXP3+IL-17+ T cells. BMC Nephrology 2017; 18(1):225-236

Chang CH,.., Wu MJ*. Gab1 is essential for membrane translocation, activity and integrity of mTORCs after EGF stimulation in urothelial cell carcinoma. Oncotarget 6(3):1478-89, 2015 

Chen YH,.., Wu MJ*. Estrogen Therapy and Ischemic Stroke in Women with Diabetes Aged Over 55 Years: A Nation-Wide Prospective Population-Based Study in Taiwan.PLoS One. 2015 Dec 14;10(12):e0144910.

Wu WP,.., Wu MJ*. Addition of immunosuppressive treatment to hemoperfusion is associated with improved survival after paraquat poisoning: a nationwide study. PLoS One. 9(1):e87568, 2014.

Chang CH,.., Wu MJ*. Hydronephrotic urine in the obstructed kidney promotes urothelial carcinoma cell proliferation, migration, invasion through the activation of mTORC2-AKT and ERK signaling pathways. PLoS One. 2013 Sep 4;8(9):e74300 (SCI)

Wu MJ, et al. Rictor-dependent AKT activation and inhibition of urothelial carcinoma by rapamycin. Urologic Oncology: Seminars and Original Investigations 2012; 30: 69-77.

Wu MJ, et al. Lower Variability of Tacrolimus Trough Concentration after Conversion from Prograf to Advagraf in Stable Kidney Transplant Recipients, Transplantation. 2011 Sep 27;92(6):648-652.

Wu WP,.., Wu MJ*. A reduction of unilateral ureteral obstruction induced renal fibrosis by a therapy combining valsartan with aliskiren. American Journal of Physiology - Renal Physiology 2010; 299:F929-F941.

Wu MJ, et al. Rapamycin attenuates unilateral ureteral obstruction-induced renal fibrosis. Kidney Int 2006; 69: 2029-36

Wu MJ, et al. Effect of calbindin-D28k on cyclosporine toxicity in cultured renal proximal tubular cells. J Cell Physiol. 2004;200(3):395-399

Wu MJ, et al. Cytoprotective effects of calbindin-D28k against antimycin-A induced hypoxic injury in proximal tubular cells. Life science 2002; 71: 559-569

Wu MJ, et al. Colonic Transit Time in Long-Term Dialysis Patients. Am J Kidney Dis. 2004;44(2):322-327

Wu MJ, et al. High Cumulative Incidence of urinary tract transitional cell carcinoma after kidney transplantation in Taiwan. Am J Kidney Dis. 2004;43(6):1091-1097

Wu MJ, et al. Prevalence of subclinical cryoglobulinemia in maintenance hemodialysis patients and kidney transplant recipients. Am J Kidney Dis. 2000 Jan;35(1):52-7

Wu MJ, et al. Another simpler bypassing dialysate technique for measuring post-haemodialysis BUN. Nephrol Dial Transplant. 1997 Oct; 12(10):2124-7.
B.專書
腎移植手冊.臺中縣新腎協會發行, 2009年1月1日第四版。

跨領域團隊合作照護臨床案例討論教案. 作者及主編2011年9月醫策會發行。

社區內科教案選集. 作者及總教閱2011年11月醫策會發行。

住院醫師教育的六大核心能力第二版, 第二章, 人際關係與溝通技巧. 作者,2014年7月台灣醫學教育學會發行。

OSCE臨床技術手冊. 第二章,泌尿生殖系統, 作者2014年7月合記出版社發行。

Peritoneal Dialysis at a Glance—learning from cases, 作者及主編,2018年11月臺灣腎臟醫學會發行。
 C.技術轉移
互動式腹膜透析照護資訊平台之技術知識(2013年12月1日)